For the last four years I have been keeping track of all of the books I read on goodreads.com. Not only can you create a shelf for the books you want to read and have read, you can also set a reading goal as part of the Goodreads Reading Challenge. I like to have a reading goal to work toward and never cease to surprise myself with how much I read.
In 2016 my goal was to read 74 books and I managed to read 82 for a total of 30, 086 pages. The shortest book I read was Fantastic Beasts and Where to Find Them by J.K.Rowling (59 pages). The Longest book I read was Fall of Giants by Ken Follet (985 pages). My average book length was 367 pages. I listened to 9 audiobooks and a 3 of them are in my top ten of the year. I read the most books in December (10). The fewest number of books I read in one month was 5 and I did that in 4 months (February, March, June and November).
I love stats! I also love to look back on what I read an pick my favorites of the year. I read a lot of excellent books this year. I rated 25 books 5/5 stars! From those 25 I picked my top ten to share with you here. These are the books that have stuck with me all year long. They kept me interested and revealed nuggets of truth, beauty and goodness. I will link my original Book Banter post with each book so you can read the fresh takes I had on these books as well. You can also click the book titles to purchase the books to add to your own "To Read 2017" book-list. Just remember, I get a small commission from every purchase to help quench my thirst for reading. Thanks for your continued support of my blog!
Let's countdown my ten favorite books of 2016!
10. Greenglass House by Kate Milford (originally read December 2016)
Even though I just finished this book, I know it will stand the test of time. The combination of a mystery, snow and an endearing main character this book had a lot of charm and a few life lessons. I love how the author weaves adoption into the narrative naturally. I have a few adopted family members and friends and know that it can be a tough topic for some. This book doesn't disregard that, but allows for it to be discussed. By no means is adoption the main focus, but it was what pushed this book into my favorites pile. I am so glad I read this book!
9. On Hallowed Ground by Robert M. Poole (originally read April 2016)
This book is all about the history of Arlington National Cemetery. I was lucky enough to visit Arlington when I was in 8th grade and after reading this book I definitely want to go back. I loved learning about how Arlington belonged to Robert. E Lee at the start of the Civil War, but was used by the Union Army throughout the Civil War. The story of how the cemetery came to be and the history of the Tomb of the Unknown Soldier makes my American heart swell with pride. If you love U.S. History I recommend this book.
8. The Voyage of the Dawn Treader by C.S Lewis (originally read April 2016)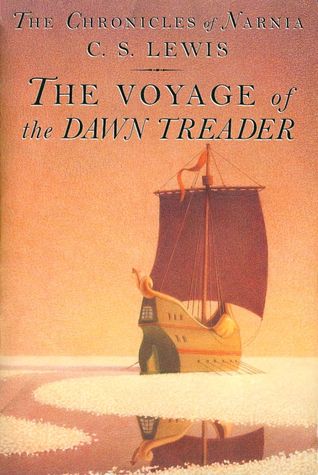 I have read this book many times before, but it remains one of my favorites of the Chronicles on Narnia. There is just something about a nautical adventure that I love. Also, the characters in this book are exemplary. They make mistakes, but learn that being virtuous is what we should all strive for. Plus a valiant mouse named Reepicheep steals the show and teaches so many good lessons along the way. I read this with my students which makes this book even more special.
7. All Creatures Great and Small by James Herriot (originally read August 2016)
When I was younger I fell in love with the stories of James Herriot and even toyed with the idea of becoming a vet(that didn't last when I realized how sad I'd be to tell people their pets did not make it). I believe I had the picture book made for children and I could have watched a few episodes of the show. I am not really sure. I am sure that this book was fantastic. The stories about the relationships Herriot had with his animal patients and their human owners were engaging and endearing. I am so glad I decided to read the grown-up version of a childhood favorite.
6. Darkness at Noon by Arthur Koestler (originally read December 2016)
Well if creep factor was the only thing I considered when picking my 2016 favorites this one would be number one. This look at totalitarianism and how the leaders of a movement can find themselves at the bottom of the barrel was eye opening. It had so many places I wanted to highlight and mark up, but I borrowed it from the library so I decided against  it, even though someone before me has used a pencil to faintly underline some very interesting nuggets. Even though this book frightened me, it is so worth reading, and in my opinion necessary.
5. Corelli's Mandolin by Louis de Bernières (originally read October 2016)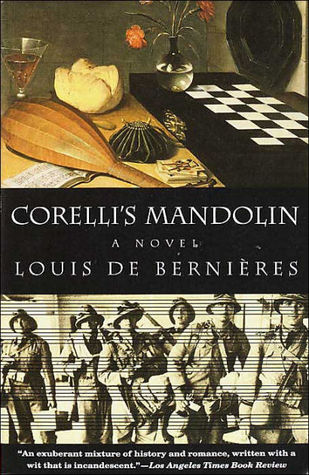 I had never heard of this book before I saw it on this book list of 200 superb books everyone should read. This book deserves to be on the list. It is about what happens to a small Greek town, and the people in it, under Italian and Nazi occupation during World War II. It took me awhile to get into this book, but the slow beginning was so worth it. This book was both gut-wrenching and heart-warming. The characters were so well written and I really came to love them. This book probably wins the award for "Most Tears Shed by the Reader" but every tear was well earned by the author. Historical Fiction in one of my favorite genres and this is now high on my list of Historical Fiction favorites.
4. A Man Called Ove by Fredrik Backman (originally read March 2016)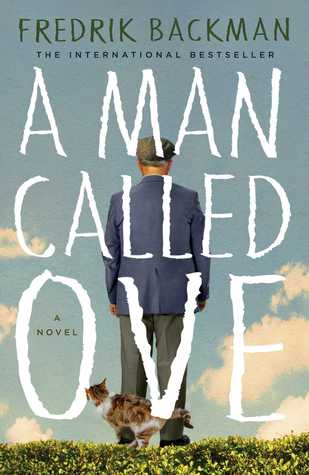 This is the book I like to compare to Disney Pixar's Up. The story centers around an elderly gentleman that has lost his wife. His life just doesn't seem worth living without her. He plans his suicide but it keeps getting interrupted by the people in his neighborhood. Slowly, Ove finds himself in the middle of his neighborhood drama and he doesn't hate it. I loved how this story focused on living a connected life. It definitely was the runner-up for "Most Tears Shed by the Reader" and I cannot get over how good it was. Grumpy old men for the win.
3. Harry Potter and the Sorcerer's Stone by J.K. Rowling (originally read Sept. 2016)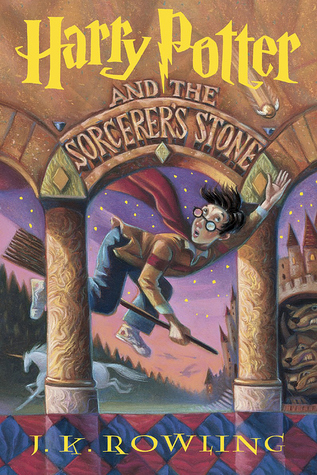 That "originally read" date is a little misleading, I originally read this when it came out back in 1999. Since then I have read it probably upwards of 6 times. I think it is pretty impressive that a book I have read so many times can still make it into the #3 spot on my favorites of the year list. It had been a few years since I read this book and I was surprised by how emotional some of the passages made me. If you are not familiar with this story I highly recommend it. It is all about bravery, friendship and love in the face of evil. So. Good.
2. The Green Mile by Stephen King (originally read August 2016)
My mom has been telling me to read this book for years. I had never read anything by Stephen King, nor had I seen the movie based on this book. But after years of hearing about how good this story is I finally bit the bullet and read it. It surpassed my expectations. I was utterly captivated by the story of a few prison guards and their prisoners. There is an element of the supernatural I was not expecting, but the characters remained so human that it fit perfectly with the story. This is a beautiful story that is definitely worth reading.
1. Dracula by Bram Stoker (originally read October 2016)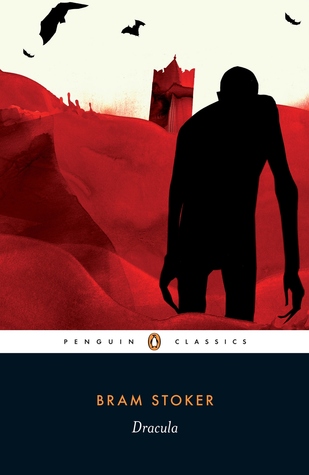 Obsession is the first word that comes to mind when I think of this book. Not only are the characters in the book obsessed (rightly) with getting rid of Dracula, but I am obsessed with this classic. I could not put this down. I never imagined that a very old book about a vampire would be my favorite of the year, let alone one of the best page turners I have ever read. The way Stoker writes his female characters was excellent. I have never read another classic that portrayed traditional femininity in quite the same way. Every time I go into a bookstore I look at their copies of Dracula to find a cover I really like to add to my collection. If you have not read Dracula, do it, it is especially creepy around Halloween (that is when I read it).
Honorable mentions: Anna Kerenina, A Hobbit, A Wardrone and a Great War, The Killer Angels
In 2017 my goal is to read 75 books, which is an average of 6 books per month. Even though I was able to read more books than that this year I have a feeling 2017 might get pretty busy with new ventures on the horizon so I wanted to create a goal that is higher than last year, but low enough to be attainable. I also want to "read my shelves" as much as I can. I have so many books on my shelves that I haven't read that are calling me (can you say To Kill a Mockingbird?) I also like to participate in this reading challenge from my favorite book blogger.
What were your favorite books of the year? What are your reading goals for 2017? Let me know in the comments!
Until next time,
I love you more than vampire creeps and book induced weeps,
Whitney