Thanks for stopping by to talk about books! I have been focusing on books I want to read this month and I haven't been sticking to my usual regimen. I will probably get back to it in the coming months, but it was fun to just sit back and let my mood drive my reading choices for the month of January.
I read ten books this month so my Book Banter post has been split in two. Read the first Book Banter post here. The books have been linked using my affiliate links, so if you make a purchase a small portion of the price will come back to me to help support my blog!
6. Emily Climbs by L.M. Montgomery 
I love everything I have read by L.M. Montgomery and the Emily series is no exception. This is the second book in the Emily of New Moon Series. Emily Starr, like Montgomery's well known character Anne Shirley, lives on Prince Edward Island and is an orphan. She loves writing and dreams of being a well known author/ poet/etc. I LOVE the way that Emily looks at the world, she sees beauty everywhere and takes the time to admire it. I feel like I notice the beauty in the world, but rarely take the time to truly indulge in it. So Emily's observations are a welcome reminder. Emily's character is so endearing, at times you can feel her anguish and remember being as young as she is. Of course, you can see budding romances forming, but they are so sweet and innocent that it warms your heart. Emily and Anne are similar in many ways, but their differences make the Emily series a very different read.
7. The Shining Girls by Lauren Beukes
This is a book my best friend recently read and the premise made me push it to the top of my stack. This book is all about a time-traveling serial killer. Pretty interesting right? The time travel is not science-fictiony; it is the means by which the killer finds and gets to his victims. After he has found a victim he takes something from her and then leaves it at the scene of the next crime. For investigators this is puzzling because the trinkets are often left during a time period where they have not yet been invented. He is going undetected when one of his intended victims lives and is set on finding out who tried to kill her. The writing is weak in some areas. I found myself rereading a few of the passages because the wording was off, but it didn't take away from the overall read.  I really liked the premise and would look for more by this author. As she continues to write I am sure her style will improve.
3. Emily's Quest by L.M. Mongomery
Yes I finished the Emily of New Moon series this month. After I finished the second book I quickly started the third and final book in the series. I wanted to stay in Emily's world for just a while longer. In this last book Emily does a lot of growing up and learns what it is like to break a heart and have her heart broken. The descriptions are still gorgeous and make me want to visit Prince Edward Island. I would be lying if I told you this was easy for me to put down. I stayed up VERY late on a school night to finish this book because I HAD TO KNOW what happened. I wasn't disappointed. I am not the type of person that always needs the ending of a book to be wrapped up with a pretty little bow on top, but this book had the biggest and brightest of bows and was just right. Let me leave you with some quotes from the book, "But love is not bought and sold. It is a gift." and "Even if we never find it," he said to Emily, as they lingered in the New Moon garden under the violet sky of a long, wondrous, northern twilight, on the last evening before he went away, "there's something in the search for it that's better than even finding it would be."
4. Station Eleven by Emily St. John Mandel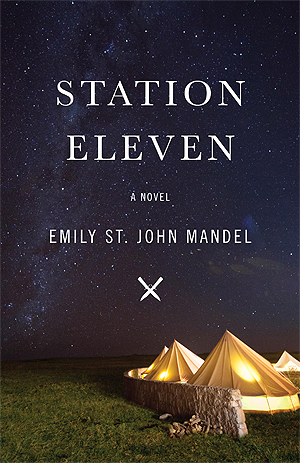 I have heard a lot about this book over the last year, most of which have been rave reviews. So I FINALLY listened to it on audio using my Overdrive app (free audiobooks anyone?). This book starts in what seems to be present day. After an opening scene, that at first seems unrelated to the story, you find out that a flu pandemic is sweeping the globe and nothing can stop it. Fast forward 20 years and civilization is all but gone. The story is following the youngest girl in the opening chapter as she navigates this desolate world with a traveling Shakespeare group. Yes, that is for real and I LOVED it. As the story progresses, the stories of the characters in the opening scenes have all become interwoven in this new world. You get snippets from the past to help inform the present, which is a plot device I usually enjoy. I appreciated the attention to detail and how plot lines were not left unexplored. The opening chapters through the death of society had me on the edge of my seat, heart pounding. But the "fast forward to 20 years later" seemed abrupt and took me out of the story a bit. I could not really get my emotional connection back. I wonder if this can be attributed to the way the narrator read it. If I had read this in the text form maybe I would have liked it better. I did really enjoy this book, and see why people like it. It was just not as good as I had hoped.
5. The Magician's Elephant by Kate DiCamillo
This was another audiobook pick (three in one month! I have been doing a lot of work in my classroom on my days off I guess…) I love the balance of whimsy and serious issues DiCamillo brings to her books, and this was no exception. This book is about a young orphan boy who made a promise to his mother before she died that he would take care of his newborn sister. When his guardian is not fit to take care of the girl, she is taken away and years later the boy is still determined to find her. He goes to a fortune teller to ask about his sister and finds out that an elephant will lead him to her. Meanwhile a magician comes to town and accidentally makes an elephant appear in the drawing room of a well-off woman's house. It is a real elephant in the room situation, if you know what I mean ? 😉 The boy finds out about the elephant and knows this is the elephant he has been waiting for. As he tries to discover where his sister is, the boy finds out who is there for him and learns what family he already has. I enjoyed this book, while it was not my favorite by DiCamillo, and have a few students that will bee hearing this as a recommendation for a story they should read.
That is it for my first Book Banter post of the new year! Don't forget to follow along with what I am reading and share what you are reading by snapping a picture and posting it on instagram or twitter using the hashtag #bookbanter2017 You can follow me @whitksmith
Until next time,
I love you more than violet skies and the world's demise,
Whitney