~this post contains affiliate links~
I finally broke out of my reading rut. After reading Brave New World last month I could not get into another book. The end of that book wrecked me. But I decided I would ease back into reading with a good young adult mystery and then it was off to the reading races!
I have recently started a facebook group for the blog called Golden Retrievers and Stars  (of course) and you should definitely check it out. I share fashion and books deals and live un-boxings of my recent purchases.  I am also toying around with the idea of doing an online book club, so let me know if that is something you would be interested in doing!  So seriously, go check out the faceook group, you won't regret it.
Back to the books. Here is what I read this month:
1. A Study in Charlotte by Brittany Cavallaro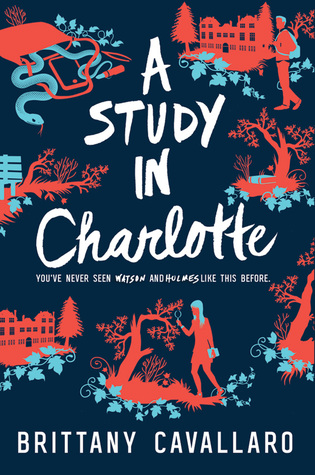 The main characters in this new series are Charlotte Holmes and Jamie Watson (yes, they are descendants of Sherlock Holmes and Dr. Watson of literary fame) and they find themselves thrown together at a boarding school in Connecticut when one of their fellow students was murdered. Of course they are the prime suspects. I love a good mystery and when the characters are interesting it is even better. Jamie is very easy to like and I am so glad the story is told from his perspective. Charlotte is complex and not altogether easy to love, but is really honest. I liked the banter. I liked that there wasn't too much ooey-gooey teenage emotion.  The second book in the series recently came out and I have a feeling I am going to start buying these books because the covers are GORGEOUS. Disclaimer: there are some scenes with adult content and drug use.
2. Devil in thee White City by Erik Larson 
I am a sucker for excellent narrative nonfiction. I love to read, and learn new things, so nonfiction that reads like a novel makes my heart happy! That being said, I do not know why I have not read Erik Larson sooner. This book follows the lives of H.H, Holmes (Chicago serial killer) and Daniel H. Burnham (Chicago World's Fair Architect) as the Chicago World's Far comes together. Both the drama surrounding the World's Fair and the murders committed by H.H. Holmes were very interesting. I cannot believe how far police investigation has come since the late 1800's. H.H. Holmes was not only murdering but committing fraud all over the place!  My favorite bit of architecture and engineering history was the invention, building and operation of the first Ferris Wheel! This book was slow in spots, but I really loved it. If you have an interest in serial killers (sounds bad, but we all know it is a thing) or the history of U.S. architecture you should totally check this book out. If not, still check it out, it is fascinating!
3. Grave of Hummingbirds by Jennifer Skutelsky
I am a sucker for a good setting and the setting of this book was perfect. Picture a small South American village, condors flying overhead and weird murders all around. Our cast of characters finds themselves in the middle of these strange murders as a local festival draws nearer.  An American anthropologist and her son visit the village for the festival and locals begin to notice the anthropologist resembles a recent murder victim. Not long after they arrive and notice that something strange is going on she goes missing. The local doctor (whose wife has recently died and also looks like the murder victim) gets involved and things just keep getting weirder. Throw in some corrupt politicians and police and you have yourself an excellent, exciting story.  I saw that is free on kindle unlimited so if you subscribe to that, then definitely download this book!
4. Little House in the Big Woods by Laura Ingalls Wilder 
There isn't much to say about this book other than it is one of my all time favorite books. I have read this book too many times to count. The most recent read was with my students. The joy that they got from hearing Laura's stories amplifies my own joy. They learned a lot and asked me so many great questions. After we finished reading we made Johnny cake, butter and maple sugar candy, just like Laura did in the book. This made this read extra special. If you have not read this please do it now! I have heard the audiobook is awesome because there is real fiddle music when Pa plays!
5. The Romanov Sisters by Helen Rappaport 
Ever since I was a young girl I have been interested in Tsar Nicholas II and his family. Their story is so tragic I have always thought it was weird I was so drawn to it.  But it wasn't until I read this book that the reason for my curiosity became clear. The Romanov family suffered well. Their world was crumbling around them and their deaths were imminent. Yet, they took joy in the world around them. They were happy to be able to chop wood, or walk around a garden. They enjoyed their time together and they never lost faith. Their biggest regret about being in captivity was that they could no longer help at their hospitals. What a powerful example they were. Nicholas was not a good ruler, but he was a good man and father. He put his family before his country until he took his last breath. His daughters and son were never allowed to grow up, but their story is inspiring. I cried my way through this one, and it didn't help when Anthony said, "well its not going to get any better" but this story is one I will keep revisiting.
6. A Rule Against Murder by Louise Penny
I have been slowly reading my way through the Chief Inspector Gamache Mystery series. This is book number 4 and was by far the best. The strength of this series is the characters and while they take time to develop it is worth it. This book is set in the wilderness of Canada at an old inn. One of the guests is crushed by a statue of her father that was just erected. The only suspects are the family members themselves and the staff of the inn, oh and the Chief Inspector himself, who happened to be staying at the inn with his wife at the time. We get to see a glimpse into the Inspector's past and learned a little about his father, and why he chose the path he did. I am going to keep plugging away at this mystery series, because I hear it only gets better!
7. Edge of eternity by Ken Follett
This is the third book in Follett's Century Trilogy and it covers post WWII to the falling on the Berlin Wall. That is some serious ground, and I think that is why this turned out to be my least favorite of the three. I felt like I didn't really get to know the characters as well as in the other books. Don't get me wrong there were very touching moments in this book, but most of them included characters from the previous stories. The best part about this book was how much I learned. I knew the least about the subject matter in this book and was horrified and fascinated by all that I learned. One thing that really bothered me about this book was that Follett's characters seemed less morally ambiguous than in his previous books. All of the characters were still flawed, human beings, but it was clear Follett was trying to make certain characters out as the "bad guys" because of their political views. In the previous books the reader was allowed to make their own judgments about a person based on the glimpses of humanity that Follett provided for all characters. I much preferred that to the over-generalization of characters based on their political leanings. I would highly recommend this series to historical fiction lovers. The audiobooks are fantastic and well worth the $15 audible credit price because they are about 37 hours each. Disclaimer: there is tons of adult content in the series.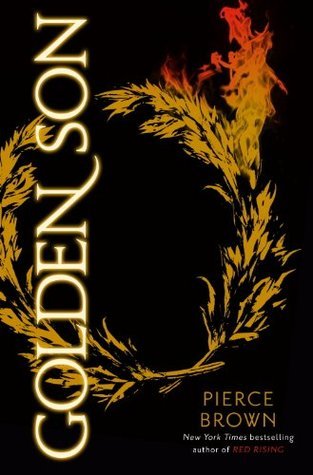 This book is the second in Brown's Red Rising Saga. It follows Darrow, a young man who has left his family behind in order to free them from the life of slavery they live. This is a post-apocalyptic type series, set in our solar system after earth's destruction.  In this book Darrow further infiltrates the Golden society that has kept his people underground for hundreds of years. This series is similar to The Hunger Games (yes it has lots of violence), but the political system of the society is very interesting. What I love about these books is that I found myself writing down quotes and nuggets of wisdom. Every once in awhile Brown slips in a keen observation on human nature and I am a sucker for that. I am excited to get the next book from the library!
I managed to read 8 books during March! What have you been reading? Have you read any of these books? If so, tell me your thoughts in the comments. You can follow me on twitter and instagram @whitksmith and search #bookbanter2017 to keep up with what I am reading. Don't forget to join my facebook group to get great deals on books!
Until next time,
I love you more than Russian Tsars and Ferris Wheel Cars,
Whitney